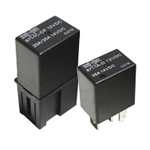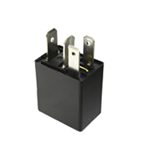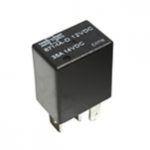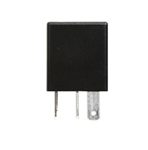 Micro ISO automotive relay.
SPNO & SPDT contact configurations.
NO contacts switch 35A resistive load, NC contacts switch 20A resistive load, 100,000 ops., 23°C.
Operating ambient temperature -40°C to 125°C.
Available with plain cover and skirted cover.
Optional resistor or diode for coil transient suppression.
RoHS Compliant ; ELV Compliant.
Ordering Information
| | | | | | | | | |
| --- | --- | --- | --- | --- | --- | --- | --- | --- |
| 871 | – | 1A | – | C | – | □ | | □ |
| 1 | | 2 | | 3 | | 4 | | 5 |
| | | | |
| --- | --- | --- | --- |
| 1. | 871 | — | Basic series designation |
| 2. | 1A | — | Single pole normally open |
| | 1C | — | Single pole double throw |
| 3. | D | — | Dust cover |
| | DF | — | Dust cover / base holder type available |
| | C | — | Flux tight |
| | S | — | Sealed type washable |
| 4. | Blank | — | Standard type |
| | R1 | — | Coil parallel with 1/2W resistor for 6V 180Ω, 12V 680Ω, 24V 2700Ω |
| | D1 | — | Coil parallel with diode 1N4007, the diode anode on # 85 terminal |
| 5. | □ | — | Coil voltage (please refer to the coil rating data for the availability) |
Description
Outline (L×W×H) mm
23 × 15.5 × 25.4
Contact configuration
1A, 1C
Max. Allowable Contact current(A)
35A
Contact rating
Resistive load
NO: 35A 14VDC, 15A 28VDC, NC: 20A 14VDC, 10A 28VDC
Coil voltage
DC
6, 12, 24V
AC
——
Power consumption
DC
1.2W
AC
——
Life expectancy
Mechanical(Min.)
1×107
Electrical(Min.)
1×105
Dielectric strength
Open contact
500VAC
Contact and coil
500VAC
Contact circuits
——
PC Board Layout