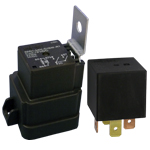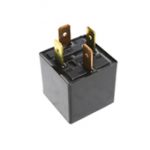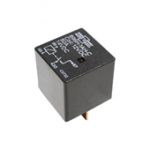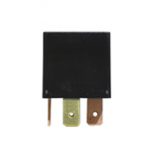 Mini ISO automotive relay.
SPNC, SPNO, SPDT, DPNO contact configurations.
NO contacts switch 50A resistive load, NC contacts switch 30A resistive load, 100,000 ops., 23°C.
Operating ambient temperature -40°C to 125°C.
Available with plain cover, flanged cover, bracketed cover, skirted cover, and weather proof cover.
Available with PCB terminals or quick connect terminals.
Optional resistor or diode for coil transient suppression.
RoHS Compliant ; ELV Compliant.
Ordering Information
| | | | | | | | | | | | | | | | | |
| --- | --- | --- | --- | --- | --- | --- | --- | --- | --- | --- | --- | --- | --- | --- | --- | --- |
| 896 | | □ | | □ | – | 1AH | – | C | – | □ | – | □ | | □ | | □ |
| 1 | | 2 | | 3 | | 4 | | 5 | | 6 | | 7 | | 8 | | 9 |
1.
896
—
Basic series designation
2.
Blank
—
Standard type
H
—
High power type
3.
Blank
—
Socket terminal
P
—
PCB terminal
4.
1AH
—
Single pole normally open, contact material AgSnO
1CH
—
Single pole double throw, contact material AgSnO
2AH
—
Double pole double make, contact material AgSnO
2AUH
—
Single pole normally open, contact material AgSnO (2

×

# 87 terminal)

5.
D
—
Dust cover
C
—
Flux tight
S
—
Sealed type washable
C1
—
Flanged cover (flux tight)
D1
—
Flanged cover (dust cover)
S1
—
Flanged cover (sealed type washable)
D1S
—
Steel bracket (dust cover)
C1S
—
Steel bracket (flux tight)
S1S
—
Steel bracket (sealed type washable)
D1SF
—
Steel bracket (dust cover with shroud)
D1SW
—
Steel bracket (dust cover with weather proof)
DUSW
—
Dust cover with weather proof
6.
Blank
—
Standard type
R1
—
Coil parallel with resistor 1/2W for 12V 680Ω, 24V 2700Ω
7.
Blank
—
Standard type
T
—
Special requirement for Tin plated terminal
8.
Blank
—
Standard type
001
—
Coil parallel with diode 1N4007, the diode anode on # 85 terminal
002
—
Coil parallel with diode 1N4007, the diode cathode on # 85 terminal

9.
□
—
Coil voltage (please refer to the coil rating data for the availability)
Description
Outline (L×W×H) mm
25.8 × 25.8 × 25
Contact configuration
1A, 1B, 1C, 2A
Max. Allowable Contact current(A)
50A
Contact rating
Resistive load
896H:50A 14VDC, 20A 28VDC, 896:40A 14VDC
Coil voltage
DC
12, 24V
AC
——
Power consumption
DC
1.6W
AC
——
Life expectancy
Mechanical(Min.)
1×107
Electrical(Min.)
1×105
Dielectric strength
Open contact
500VAC
Contact and coil
500VAC
Contact circuits
——
PC Board Layout